You've read about the author, downloaded the free chapters, sampled our resources and you still want more?
Then it's time to order the book! The tenets, principles and examples contained within will be your training manual as you strive to achieve the goals and visions of your company.
For $34.95 (USD) you will receive: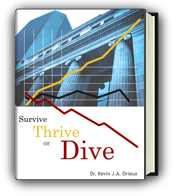 Survive Thrive or Dive
Hardcover with dustjacket
296 pages
Option 1 — Paypal
Clicking on "Buy Now" will take you to our order page. Once there you will be able to choose your payment method and delivery options.
Option 2 — Telephone
Call us to make arrangements for volume orders or to organize shipping to multiple addresses. Our representatives are standing by to help you with your purchase.
Monday to Friday, 8am–5pm Pacific Time
1 (800) 933-1339
(604) 574-1234